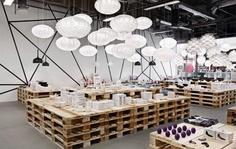 2015 / Jun / 19
The 5 benefits of a pop-up shop
Generate buzz
One-shot commitment
Experimental spot
Limited edition spirit
Affordable
Once, pop-up stores were considered experimental events for adventurous retailers.
Now, pop-up stores have become an established phenomenon and a legitimate means of testing products, generating buzz, building brand awareness for big-brand retailers and also for ambitious jump-ups alike.
Furthermore, the "fly-by-night" qualities of communication, which characterized early pop-ups, have now been supplanted by static and temporary infrastructure solutions or in-store pop-up events. H&M's new store in NYC hosted its Conscious Exclusive collection, which is a more sustainable high-fashion collection, in a store pop-up, Louis Vuitton is planning an exhibition devoted to late British designer Christopher Nemeth at Colette in Paris. It is certainly the new trend in communication, but it has also become a profitable activity for Real Estate and PR agencies. The four most important points to consider for a successful adventure are the location, timing, scenography, and of course the list of attendees. Be creative and imaginative for an unforgetable set-up! This is a unique occasion to combine experimental purpose, oversized exhibition, and sale. Who else does it? Everyone!
back